Want to make money through Graphic Designing?
Small Business Graphic Design: How To Stand Out And Earn Money
Design is everywhere. He "lives" in all sorts of forms and formats, without which our whole life is difficult to imagine. Through them, he broadcasts information, teaches, entertains, and interacts with us. Any business understands how important graphic design is so that the brand message is read accurately, and the brand itself remains relevant. Every day we see thousands of designs everywhere – from packaging, and websites, and products, and posters, and images on social networks, and business cards, and much more. But there is still a clear conviction that good design is something too expensive, and a small business definitely cannot afford it. Of course, big players like Coca-Cola or Apple (and any other corporation) can spend millions on their design tasks. But good design isn't always worth a fortune. Today, 73% of companies invest in graphic design to differentiate themselves from competitors and grab audience attention. Among them are representatives of small businesses. The main thing that matters here is that graphic design is not a luxury, but a necessity for a business of any size.
Empower your brand with quality visuals
About 77% of marketing managers say branding is a critical aspect of business growth. It is not only about the visual component, but also about building a strong brand as such. Small businesses can build long-term brands that truly engage their audience by creating a corporate identity that resonates with them. Here's how to do it:
Create a strong logo. Good visual style starts with building a visual identity around a powerful logo. With the help of a brand consultant and graphic designer, a small business owner can design a logo for their business for a few hundred dollars. You can create it yourself if you are sure that you can create something really high-quality, something that you could be proud of. A good logo is a simple logo that is easy to remember. Avoid complications, overloaded logos often look bad on some media.
Choose a color palette. A good visual brand is based on a few colors that form the basis for a company's brand image. Colors are a key factor in human perception. They help convey tonality, mood and even nudge to action. Choose colors based on the character of your brand. If you want to look professional and strict, use dark shades of blue, gray, or black. If you want lightness, stick with bright colors.
Be consistent. When creating a brand identity, it is very important to remain consistent – so that the corporate identity is read wherever it is needed, and at the same time, it does not need to be redone every week. Choose a brand direction in which you can stay for at least 5 years, and develop in it.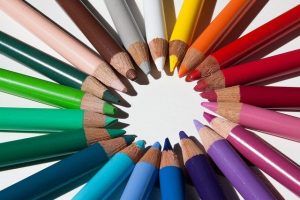 6 Graphic Design Tips: How Small Businesses Make Brand Visuals Even Without
Big Budgets
First of all, let's say that design and branding are really not free. But you should not take these expenses as a loss of money, it is better to look at them as an investment. If you're a small business with a small marketing and design budget, don't worry. Even with very modest budgets, you can get great designs. Here are some tips on what small businesses can do when resources are limited.
1. Get to know your target audience
The creation of a design for business turns into movement in the dark to the touch, if it is not clear for whom exactly this design is being created. Graphic design is not done for graphic designers or business owners, it is for the target audience. Even the best design solutions will be useless if they are not created with a focus on people. Start by researching your target audience. Create multiple brand personas and list everything you know about the people you offer your service or product to. After that, you will get a clear understanding of who you are targeting, which means you will be able to create graphics that will really hook this audience. This avoids unnecessary rework steps that typically cost a business several thousand dollars.
2. Use online tools
Another tip to save time and money is to use graphic design tools to create designs for small businesses. Dozens of apps and programs can help you prepare a professional graphic design for your business – and access to these services costs a few dollars a month. There are several mandatory criteria that the services in which you prepare design content for business must meet: free access to ready-made templates, the ability to create a design with a team, and good online support. One example of such a design tool is the Crello editor, which already has tens of thousands of templates, and hundreds of thousands of stock images and illustrations. Crello also has a collaborative design sharing feature so that multiple people can design together at the same time and leave comments for each other.
3. Hire graphic design for specific tasks
Sometimes you really can't do without an experienced professional designer on staff. But if the budget is modest, you can hire him not full-time, but for a specific task – on a project-by-project basis, on a freelance basis. Up to 15% of companies assign tasks to freelancers or conclude a contract with a designer only for a specific project. For example, this could be a company rebranding, packaging updates, business cards, letter headers, brochures, or brand designs for other media. Hiring a designer even one-time, think: would you like to work with this person on an ongoing basis and would be able to contact him in the event of a burning task (suddenly needed).
4. Create templates for social media posts
Any graphic design that a small business creates should ideally be packaged in a template for reuse. For example, take publications on social networks. It would be nice if a business owner or SMM manager could create a content grid using ready-made forms with minimal editing. A good example is a promo in which you only need to update dates, prices, and small details. You can make a template yourself, or you can take a ready-made one – but then you will need to edit the colors and branding elements.
5. Choose fonts carefully
An important aspect of any graphic design is the right fonts. A good font is neat, readable, aesthetic. You shouldn't use more than three fonts at a time. Choose a font group for the company's official design content. You can also take free fonts from the Google and DaFont libraries, or buy some original ones. Good fonts are often quite expensive.
6. Follow design trends
The design principles don't change much, but graphic design trends are constantly evolving. That is why it is important to closely follow new trends and adapt your design in time to what is currently relevant. But be careful not to break the consistency (we talked about it above), and at the same time look fresh. The ideal option is to implement small updates from time to time without departing from the original branding. And perhaps the best role model is the Coca-Cola brand, which has been around for many decades but manages to keep its visual code virtually unchanged. As a result, the brand is considered one of the most iconic in history.
Being a small brand doesn't mean being ugly
Even if the business is small, this does not mean that the graphic content should be average. Not at all. Using graphic tools or hiring a freelancer for tasks, you can create high-quality designs even with small budgets. And remember: every dollar you invest in a good design can bring a business several times more.