Free Modern Business Card Mockup PSD For Branding 2022
This Free Modern Business Card Mockup PSD For Branding 2022. Sometimes clients need to see how exactly the design is going to look like in order for them to make up their minds about it. Designing is one of the most demanded categories in our life that pullouts different types of projects on daily basis. And designers have to undertake them and to prove themselves as the best creator for these projects.  It will allow you to present both sides of your business card design in a stylish and creative way, with the unique feel of letterpress printing. Thanks to Graphics Egg for sharing this useful business card mockup.
Make sure to check out his portfolio on Behance for more time-saving design resources like this one. As we always concerned with graphics that is the most prominent subject of the world and we can see. Its implementations everywhere that is proving perfection and beautiful manifestation of this field. There are various apparatuses in the graphics field that are utilizing in different happenings. Who needs to be classified perfectly in front of people. There is one attribute of this cluster that is treated in every profession and everyone has its necessity and that is Business Card.
Free Modern Business Card Mockup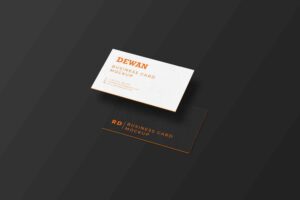 Now we are presenting you a super charged and a terrific graphical attribute of Free Modern Business Card Mockup PSD For Branding 2022 that is designed with perfection and by getting all the possible directions that can make its presence more valuable and creative. The mockup is super easy to use, all you have to do is add your design via smart layers. We have made this craft as best as people requires and you will love it when you utilize it.
So, stay in touch with us and keep utilizing our mockups for the best outcome.
Feature:

File Format: PSD (Smart Object)
High Resolution
Premium Design
Free Download
File size: 8 MB